Liv Langma Advanced 2 Disc Supernova 2021
HIS FEATHER-LIGHT RACING BIKE DELIVERS THE SPEED AND STRENGTH NEEDED FOR ANY CLIMB, RACE OR RIDE.
FACTEURS CLÉS DE PERFORMANCE
Lightweight
The compact Advanced-Grade Composite frame, slender tubing and stiffness tuned for the female rider make for a serious climbing weapon.
Aero-features
Innovative tubing designed to slice through the wind without sacrificing weight or stiffness.
Precise Handling
This climbing weapon can tackle the descents or any technical flat corner, with appropriate lateral stiffness and control.
POURQUOI NOUS L'AIMONS
Handcrafted for the toughest climbers, aspiring racers, seasoned competitors and passionate cyclists alike, Langma Advanced Disc is built with cutting-edge, lightweight aerodynamics to fly up steep grades and long climbs. The frame's slender tubing creates an extremely fast and lightweight racing machine, while the downtube thickens as it approaches the PowerCore bottom bracket for pedaling stiffness strength.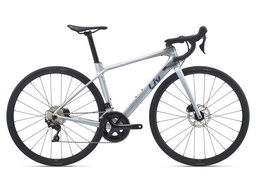 Liv Langma Advanced 2 Disc Supernova 2021
2 700,00

 €

2 700,00

 €
2 700,00

 €